YÖSIDA Principles :
YÖSIDA is fully committed to maintaining client confidentiality and observing a strict code of business ethics in our consulting practice.
YÖSIDA believes in the importance of maintaining a productive working relationship with its clients.

To ensure that there is no conflict of interest, YÖSIDA declines business from its clients' competitors.

Our clients can rely on absolute and complete security and confidentiality of their proprietary information. YÖSIDA does not disclose its past or present client list.

Expertise is developed strictly for the exclusive benefit of each particular client.

Each consulting project is organized with total commitment to enhancing management's understanding of the current situation, future prospects and paths to success.

Success is measured by the organization's achievement of tangible results and demonstrable benefits. Practical solutions are achieved through a working relationship with management based on a mutual will to succeed.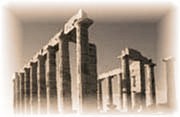 Using the profound knowledge of "principle" uneasiness can be turned into order, danger into security, catastrophe into good future.
Sun TZU
If you insist on anything without any solid background at the end you will be exhausted, and you will be left with bud lack and trouble.
Sun TZU